can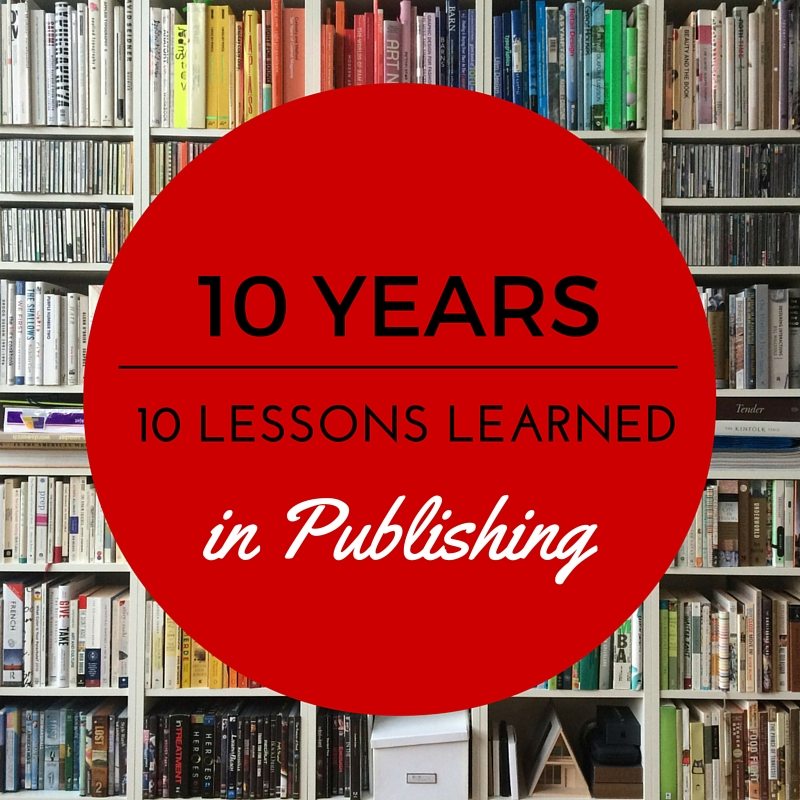 My first book came out in 2006. It's amazing how much publishing has changed since then—no digital versions and audiobooks were on CDs—but certain things remain constant like the advice to write a good book and then write the next one. I'm now a hybrid author with two self-published fiction series as well as my traditionally published series. I have learned so much about writing and publishing. Here are my top ten lessons learned:
1. Beginning is always hard
I love the imagining, the plotting, and the planning, but then it comes time to put fingers to keyboard and I'm always right back were I started—the blank page. I've learned it's best to just start. Get something down. As the Nike ad says, "Just do it." I don't have that same what if I can't do it again? feeling that I had as I began my second novel, so it's gotten better, but beginning is still scary.
2. Use Scrivener
I had to be dragged to it, but once I unlocked the Compile feature, I was a goner. I fell hard and will never go back to Word. Scrivener makes my life so much easier. Update: I now use Vellum for ebook formatting. It is even eaiser! Details in this post. 
3. I can write faster
When I began publishing ten years ago, I wrote one book each year. The thought of writing more than one book seemed impossible. I couldn't imagine writing even two books a year. Then ebooks came along and I heard about people writing several books each year and even a book a month. Crazy! But then I found out about the prolific writers' habits and routines. They were usually extensive plotters and were fast drafting…well, that made a difference to my thought pattern. I was a plotter—not an excessively detailed plotter, but I worked from a plan—and if I was just getting my thoughts down and pressing on…then I might be able to do it, too. Mindset is everything. Once I decided it was possible for me to write more, my output increased. (The fact that I had readers waiting for the books helped, too!) From 2006 to 2011, I released one book a year. From 2012 to 2015, I released ten novels, one novella, and have two more novels in post-production.
4. "Shorter" books are okay
This point is related to writing faster. When I began in traditional publishing, 75,000 was the minimum word count for my genre. It was important for the book spine to be wide enough on the shelf. With digital books, length matters less. Readers want a great story and—as long as the story is a good one and feels complete—readers don't care if the story is 50,000 or 75,000. Agatha Christie thought 50,000 words was about the right length for a mystery. I have to say that the more I write, the more I agree with her. My self published books usually come in around 55,000 to 65,000 words and I haven't had any complaints from readers.
5. Systemizing routines saves me tons of time
During the last few years I've realized that there are routine tasks that I do over and over again. It finally dawned on me that if I systemized my routines, I could spend less time on administration and more on writing. One way I do this is with templates. For my fiction books, I have a template with the title page, copyright data, and formatting already in place. I also began keeping a sheet of information for each book. I call it my Book Details page and list everything I might ever need for the book: publication date, keywords, links to vendors, tweets, pricing info, and the book description. I created a Book Release Checklist, so I wouldn't forget any of those small, but critical details, like linking my new book to my Author Central account. I compiled all my best tips and shortcuts in my book The Efficient Writer. Check it out for more time-saving tips as well as downloads of all my spreadsheets, templates, and checklists.
6. Streamlining marketing is another essential timesaver for me 
I've gradually backed off the amount of time I spend marketing. When my first book came out ten years ago, I literally spent months on promotion. This was back in the day when you had to make a big splash during your release month

or you were done. I did press releases, book signings, postcard mailings, regional book tours with other mystery authors (which we paid for ourselves), weekly blogs, drop-ins at bookstores to sign stock anywhere within driving distance, events at libraries and schools, fan conventions, and pitched and wrote articles related to my upcoming release for magazines. For the first five years of my writing career, I spent about seven months writing and three to four months marketing the upcoming book that I'd turned in the year before. As ebooks have grown, I've shifted how I spend my time. I spend about 80 to 90 percent of my time on writing and the res
t on promotion. I've also changed how I promote. I don't do book signings or bother with press releases or postcards. Almost everything I do for promotion is online now. I have an email list and communicate directly with readers that way. I use lots of tools to help me keep up with social media. My favorites are Canva, Hootsuite, and IFTTT, which stands for If This Then That. It lets me post once then sends that update to all my other social media outlets, which is a huge time saver. I cover IFTTT in more detail in The Efficient Writer as well as listing my top time-saving social media tips.
7. It's okay to take breaks (i.e. the world won't end if I don't write everyday)
Every writer has heard this writing "rule:" Write every day. I wrote every weekday when I first started and felt guilty if I didn't. For the last few years, I've worked in phases. I have an period of intense writing when I do less social media and promotion (but don't drop it altogether!) then I transition into an editing phase. After that, I move into post-production—formatting and uploading and more promotion. The phases do overlap at times, but I'm very linear and do better if I focus on one thing at a time.
8. Live a little
I've learned that it's okay to have a non-writing time when I focus on formatting or editing but beyond that I've realized that interrupting my writing time to do new things revitalizes my writing. When my husband was assigned a six month non-accompanied job (meaning the family wouldn't be moved) to Italy, I wanted to go—I loved Italy the one time I had been there—but the thought of all the upheaval it would cause was a drawback, not only for our kids, but also for me. I would lose weeks of writing time. But the opportunity was too good to pass up. We switched to online school for the kids and I bought a used MacBook Air so I could write on the road. The six month job turned into a year. My husband stayed in Italy while the kids and I went back and forth every few months so we could check on our house and keep up with orthodontist appointments. All the travel back and forth was stressful and I did lose time to write, but I gained a whole new world of experience that I (of course) had to write about. The On the Run series grew out of that experience. If I'd said no I can't do it because I can't write everyday, I would have missed out on so much, not just in my writing, but in living. This lesson is something I struggle with everyday, especially with the avalanche of work that is self-publishing, so I have to remind myself of it all the time.
9. Keep an eye on the horizon.
I feel like I was caught flat-footed by ebooks. I had no idea what was coming…and it should have been so easy to see the impact ebooks would have since the digital revolution had pushed through music and the DVD industry. If I had been more interested in trends, I might have started self publishing in 2010 or 2011, not 2012. I've learned I have to keep an eye on the horizon and be prepared for changes—that's why I distribute my books to all vendors, not just Amazon. I want to be wide when the rest of the world catches up to the US in the ebook market. After moving at the speed of a glacier for years, publishing is finally changing. It will be interesting to see what the next few years bring.
10. The ideas don't run out
I have a long list of books I want to write—shiny ideas that call to me while I'm laboring on my WIP, but there have also been points during the last ten years that I thought okay, that's it—that series is done. After I finished book eight of the Ellie series, I was creatively drained and felt I had nothing left to say, but it wasn't long before a thought stirred. I'd never written a book around a wedding theme, which is something that usually appeals to cozy readers. What if it was a destination wedding on a barrier island along the coast of Georgia…? And I was off and running. It may feel like I'm creatively dry about a series or character, but it's usually not long before another idea pops up. I've even had a series take a turn and open up in a way I never expected so that the series can continue. The ideas and the surprises keep showing up. I thought it appropriate to circle back to writing with the last lesson because that's why I watch out for trends and promote on social media and push myself to write faster…I want to keep writing books.
What lessons have you learned while you've been publishing?
SaveSave
SaveSaveSaveSave
SaveSave