See on Scoop.it – All Things Bookish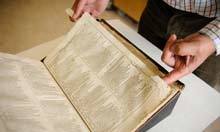 The book is also a horrible warning to all librarians of the perils of disposal. In 1664 the library got the much smarter Third Folio, and a few years later sold off the First as a duplicate. It would pass through many hands until one day in 1905 a man walked in with the book in a bag, and asked what they thought of it.
A brilliant young librarian recognised the Bodleian library binding and the scars of the chains: it cost them £3,000, also raised by a public appeal, to get the book back. Since then it has scarcely been opened, and has spent almost all its time locked in a strong room.

See on www.guardian.co.uk