Bio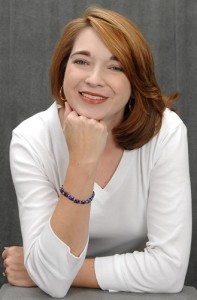 Sara Rosett is the author of the Ellie Avery mystery series, an adult "whodunit" mystery series in the tradition of Agatha Christie. Publishers Weekly has called Sara's books "satisfying," "well-executed," and "sparkling."
Born and raised in Amarillo, Texas, Sara has always loved to curl up with a good book. From her elementary school years she has wanted to write novels. The recipient of several scholarships, Sara attended Amarillo College. In 1989, she was named the Outstanding English Major. Sara completed her English degree at Texas Tech University, graduating summa cum laude.
Her marriage to an Air Force pilot has taken her to central and southern California, Texas, Washington state, Alabama, Oklahoma, Georgia, Maryland, Virginia, and Florida. Sara has worked as a credit processor, a staff reporter for two Air Force base newspapers, and a researcher and writer for the Citizen Ambassador Program of People to People International.
Her husband served as a pilot in the Air Force for nine years on active duty and is still a pilot with the Air Force Reserve. He is stationed at MacDill AFB, Florida.
Sara's work has appeared in Harbinger, Texas Tech University's Journal of the International English Honor Society, Simple Pleasures of Friendship (Conari Press, 2003), Simple Pleasures of the Kitchen (Conari Press, 2005),  Chicken Soup for the Military Wife's Soul (HCI April 2005), Romantic Times (April 2006), Mystery Scene (Spring 2006), Mystery Readers Journal (Vol. 21, No. 2, 2005), The Writer (November 2006), and Georgia Magazine (June 2007). Sara is a member of Girlfriends Book Club and The Deadly Divas, nice women who happen to write about murder.
Moving is Murder was a Reader's Choice Award nominee in 2007 at the Salt Lake County Library as well as the October pick for Murder Most Cozy, an on-line mystery discussion group. Moving is Murder also received a Distinguished Honor Award from the Military Writers Society of America.
A member of Sisters in Crime, Mystery Writers of America, and the Military Writers Society of America, Sara currently lives in Florida. Visit http://www.SaraRosett.com for more information or connect with Sara on Facebook, Twitter, or Goodreads.