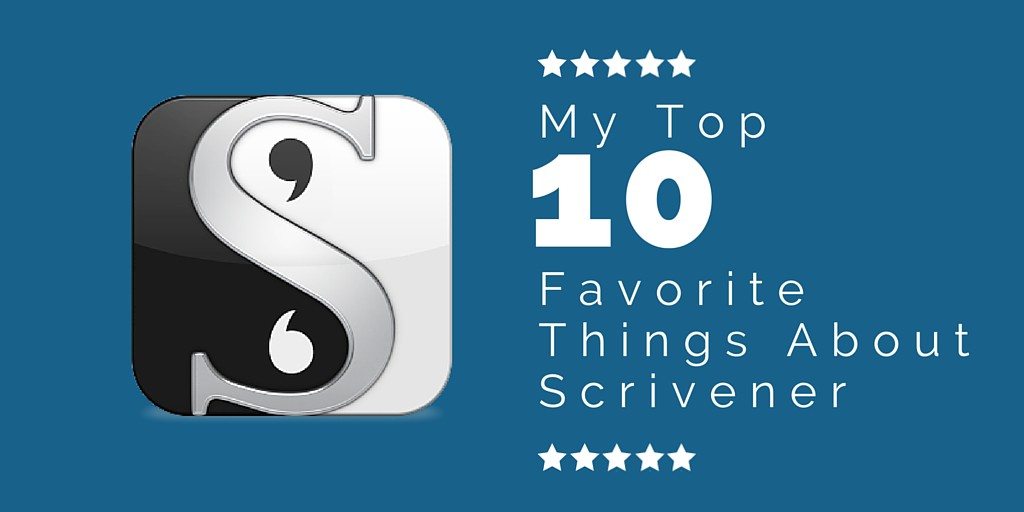 Scrivener is an amazing tool for writers with an incredible variety of features. Scrivener has helped me write more efficiently and made keeping up with all the research and information easier. Scrivener is a powerful software, but it can be a tad overwhelming, so I wanted to highlight what I like best about it. Here are my top ten favorite things:
1. Compile
Compile is simply the best feature ever. With the ability to create .epub, .mobi, .doc, and .pdf files (to name just a few) the Compile feature tops my list. It is the feature I use the most and couldn't live without. Update: I now use Vellum for ebook formatting and love it. It makes my life even easier! Details here.
2. Drag and Drop
You can rearrange text easily, reordering chapters or scenes. Splitting text into new chapters or scenes is easy as well. And there is no renumbering of chapters.    
3. Document Notes
Document Notes is a versatile area that I use to jot notes on upcoming scenes or details I need to revise. I also love that I can drop images in for quick reference. If I don't want to see the Document Notes area I can hide it as well.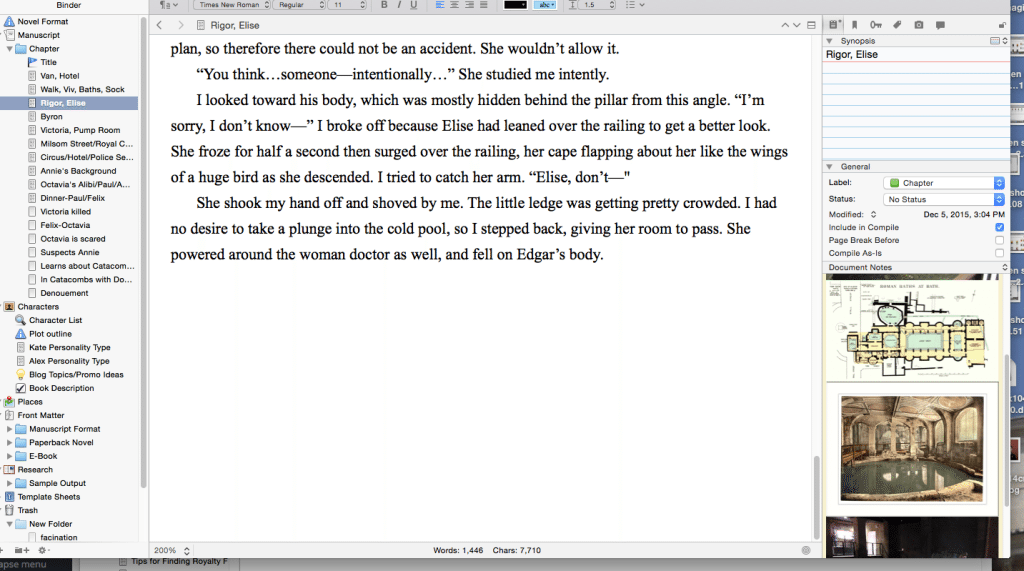 4. Name Generator
It's often the little things that can be a big help. A built-in name generator with settings for gender and relative obscurity means that I can stay in my document instead of searching the web for possible character names.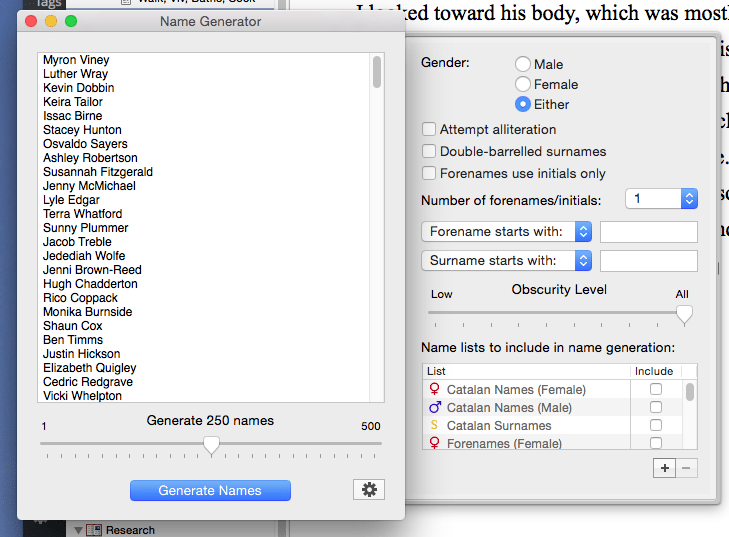 5. Targets
A pop-up window keeps me updated on my word count for individual sessions as well as the whole document. I'll admit that I do have a love/hate relationship with the progress bar that changes from red to green as I write my words for the day.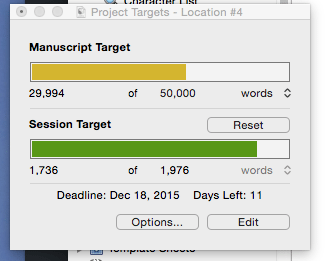 6. Auto Save
Scrivener constantly saves my work. I never lose anything.
7. Snapshot
I can take a Snapshot of the complete document (or Project as Scrivener calls it) before making changes. I have the option of reverting to that saved version.
8. Typewriter scrolling
Typewriter Scrolling keeps my cursor at the center of the page, another small, easily overlooked feature, but an excellent one that I miss on other word processing programs. 
9. Corkboard View
A screen of index cards for high-level planning, which can be arranged as you like with text or images. I use this view for plotting.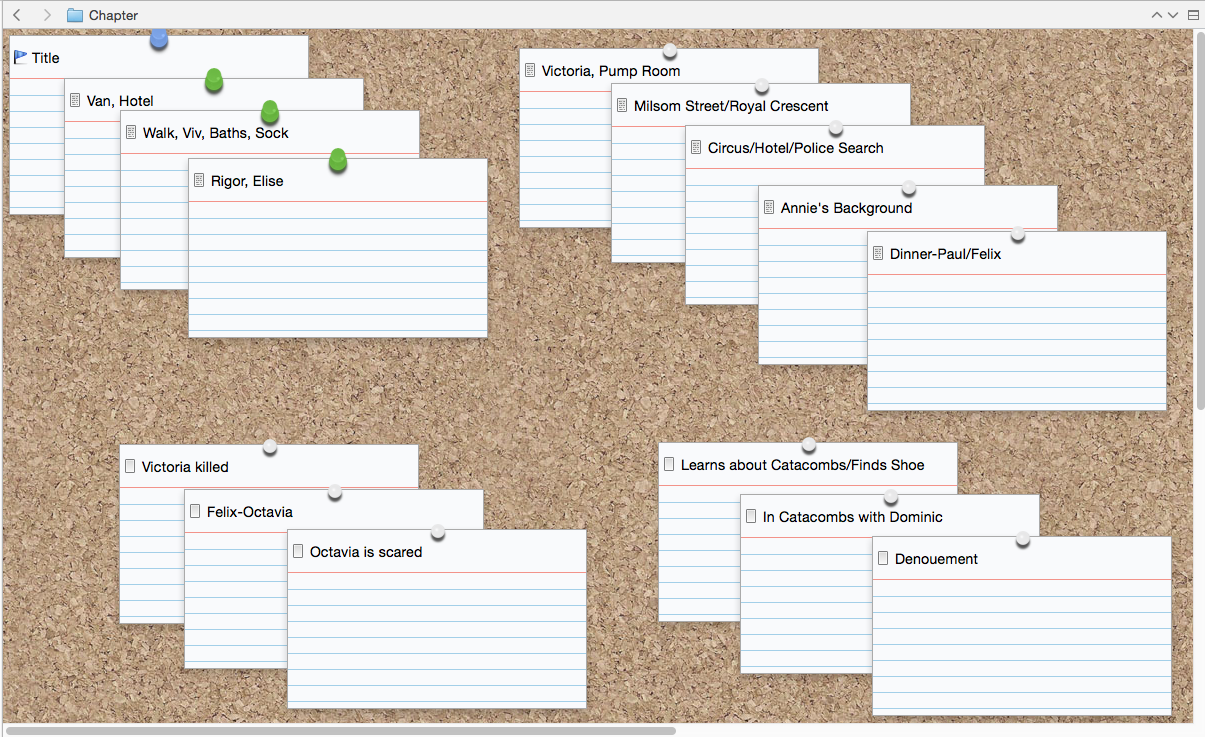 10. Customization-o-rama
Scrivener will let you customize almost every part of it from icons to background colors to the pushpins on the corkboard. Here are all the options you have for changing the icons in you binder. And this is just the list of icon options!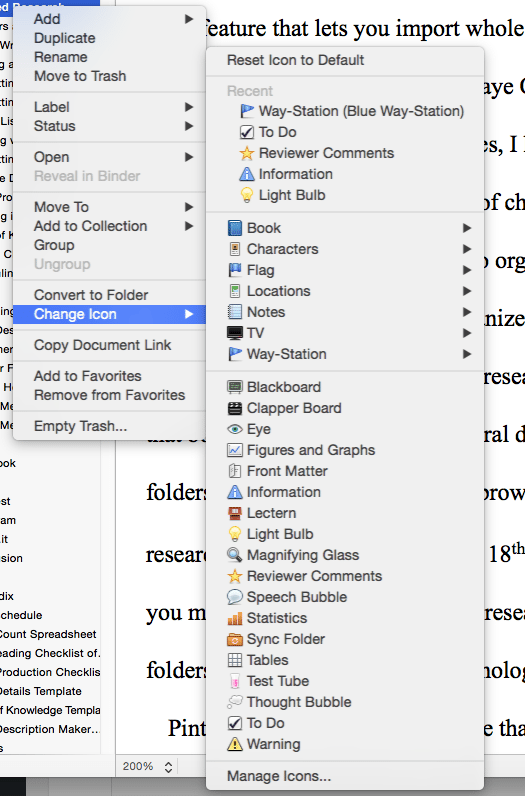 Scrivener makes it so much easier for me to write. I'll never go back to Word. Do you use Scrivener? I'd love to hear your favorite features. 
Scrivener Links: 
(The links above are affiliate links, which means if you purchase the product, I get a small commission but you won't pay more than the regular price. I only recommend products I use and love.)